Want to make an offer ?
1/22
2/22
3/22
4/22
5/22
6/22
7/22
8/22
9/22
10/22
11/22
12/22
13/22
14/22
15/22
16/22
17/22
18/22
19/22
20/22
21/22
22/22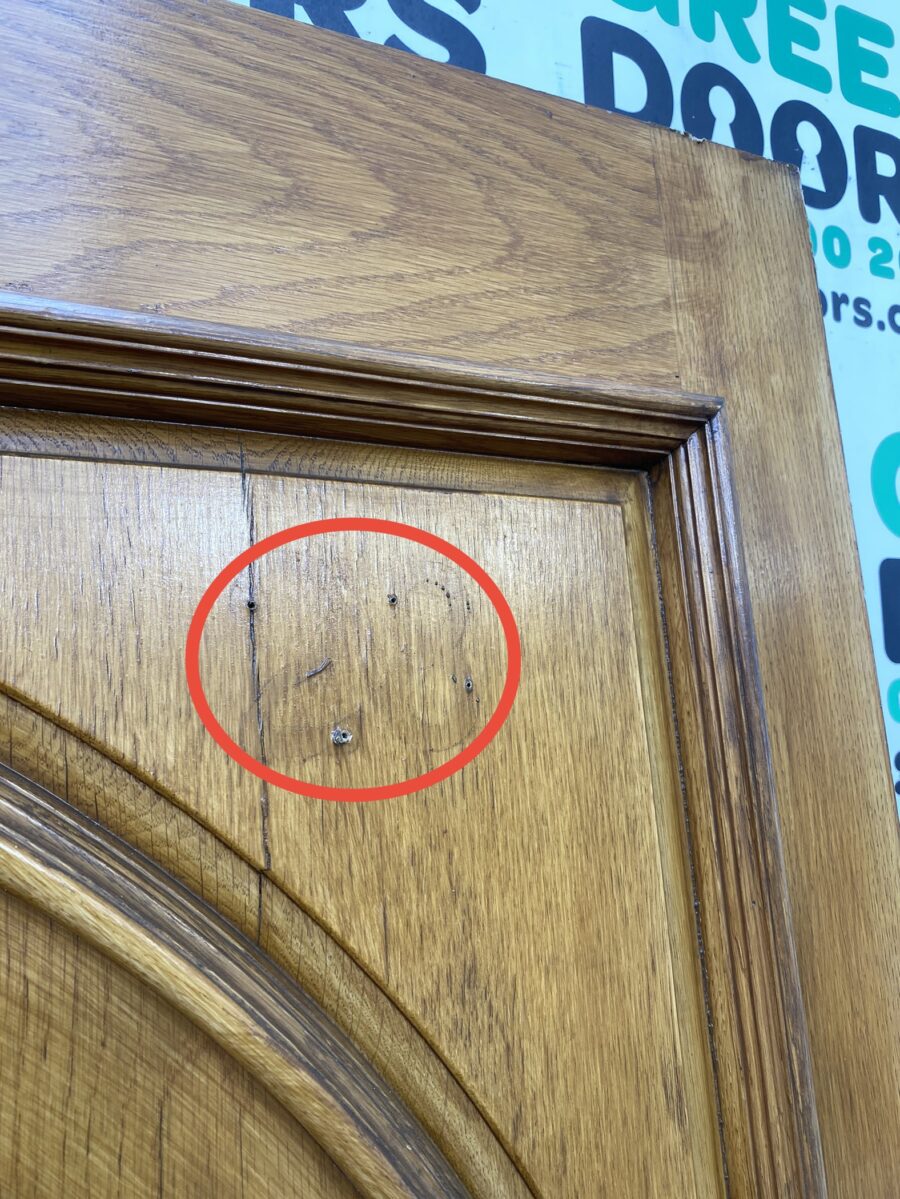 Want to make an offer ?
We understand that every penny counts, and we want to give you the opportunity to save more while helping us rescue even more products.

Depending on how long we've had an item in stock, we may be able to accept a lower price.

Don't hesitate to contact us and make an offer on any item that catches your eye!
Wooden (Oak Veneer) French or Double Front Doors with Empress glazing pattern.
Bespoke made by a professional joinery company to a very high standard.
Would cost around £2,600 if you were to order new direct (when complete with frame).
Carefully removed by a professional fitter.
Condition
Pre-owned and has been previously installed.
Excellent/ very clean condition both sides.
Not bowed or rotted at all.
Screw holes from previous door numbers (see photo). These can be filled or covered with your own door number.
The veneer is split/cracked in a few locations (see photos) which a competent carpenter could fill and touch up.
Missing Parts
There is no frame for this item, so you would need to get one made up by a carpenter or use your existing frame if possible.
Handles, Hinges, Barrel and Chubb lock system missing, however these can be purchased online at a low expense.
Opening
Internally opening doors.
When viewing from the outside, the main traffic door is located on the right.
Glazing
Glazing is 16mm thick triple glazed, beveled, distorted, toughened with metal silver spacer bar, Low E, filled with Argon gas for extra efficiency.
There is no condensation occurring inside the panes.
Decorative leaded glass, with a lovely beveled 3D design inside.
Has ornate leaded bars  inside the glazing. These cannot be removed, so if you require completely clear glass, you would need to replace all the units.
Colour
This product has been professionally varnished and sealed on both sides. This offers a tough and resilient coating, requiring no maintenance, whilst still showing the original wood-grain throughout.
Ref No. 3GU6-13-7-4 (Unit 11)(W7)(NH)