Want to make an offer ?
1/23
2/23
3/23
4/23
5/23
6/23
7/23
8/23
9/23
10/23
11/23
12/23
13/23
14/23
15/23
16/23
17/23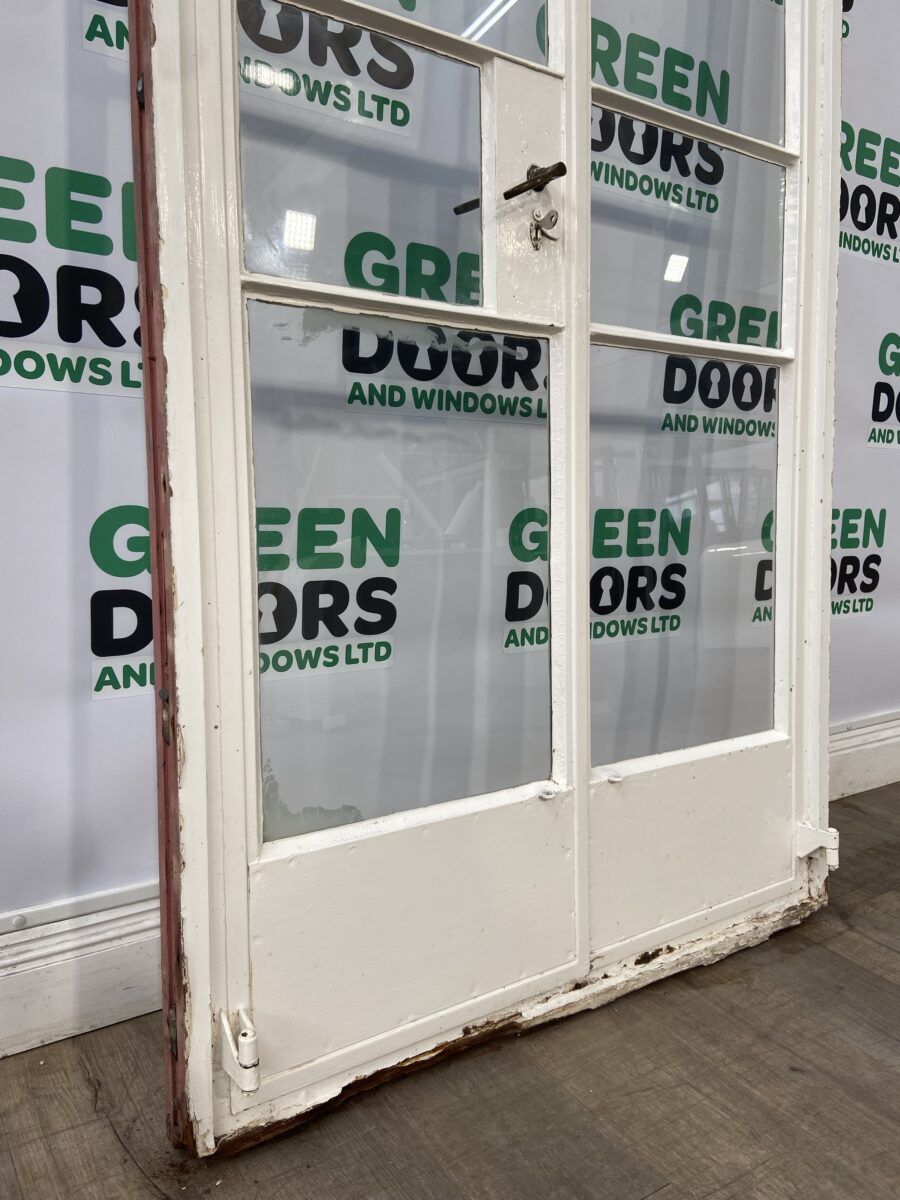 18/23
19/23
20/23
21/23
22/23
23/23
Want to make an offer ?
We understand that every penny counts, and we want to give you the opportunity to save more while helping us rescue even more products.

Depending on how long we've had an item in stock, we may be able to accept a lower price.

Don't hesitate to contact us and make an offer on any item that catches your eye!
Please note: We have matching products available- see our shop.
Please note: The measurements in the table opposite are for the steel doors. Wooden frame measurements are as follows:- Width: 105.5 cm, Height: 211.3 cm, Depth: 6.8 cm.
'Crittall' are the world's leading supplier of steel doors & windows.
Their legacy shaping and influencing design can be seen worldwide for over the last 170 years.
They are at the for forefront of innovation, using cutting-edge design and precision machining to craft and hand-finish, unique, beautiful doors & windows which last a lifetime.'
Traditional Steel Crittall French Doors, dating back to around 100 years old.
Carefully removed by professional installers.
Would cost over £5,000.00 if you were to order new direct as the invoice is without VAT.
With this product we can offer a professional sand-blasting and re-painting service for an additional £500. 
See bottom of listing for more details.
We have lots of 'Crittall' products available- see our other listings.
Condition
Pre-owned and has been previously installed.
Paint chips in a few areas, however this is normal with older doors that are steel.
Handles are loose, but these either can be fixed or replaced at a low expense.
Security
Has bolt locks on the inside for extra security.
Multi-point 'Union' locking system making it very secure.
Comes with 1 key.
Opening
Externally opening doors.
When viewing from the outside, the main traffic door is located on the left.
Glazing
Glazing is original single glazed.
Each pane is separately glazed, making it easier to replace any if required and offers extra security. It also gives that high quality appearance with the Georgian Bars externally and internally.
As mentioned above, we offer a fully refurbishing and re-painting service on this product, in your choice of colour.
The putty, glazing & furniture is hand removed by ourselves and the product delivered to a highly rated, local sand blasting company.
This would cost an extra £500 including VAT.
See 4th example photo of a set we had re-sprayed in black. We have lots more photos on request or a more in depth specification of the coating if required.
Please note the glazing can't be saved when the doors are stripped, so this would need to be replaced. This would also need to be putty filled and installed by your fitter.
The price does not include new glazing but we can order this in at a cost of approximately:
Single glazed (toughened) units: £145 total including VAT.
Double glazed 14 mm (Toughened, Argon Gas, Pilkington KS, Low E) units: £295 total including VAT.
We can order any type of glazing at an extra cost: Laminated, Tinted, Leaded, Frosted etc.
Colour
The colour externally and internally is matt White, with a matching frame either side.
The handles are Solid Brass and the colour of the hinges is White.
Ref No. 3BN22-8-3-1 (Unit 11 I13) (JVN)
Specification
Dimensions

2055

×

1000

×

28

mm

Colour
item type
Door
Traffic Door

Left

glazed
undefined
Opening

Externally