Our Delivery Process
We can provide an in-house delivery service at a very competitive price.
Our Company has 10 years experience of transporting large, heavy and fragile items such as doors and windows and we take care to securely strap and protect items during transit in our vehicles. We take full responsibility for the safe delivery for items that are entrusted to our delivery team.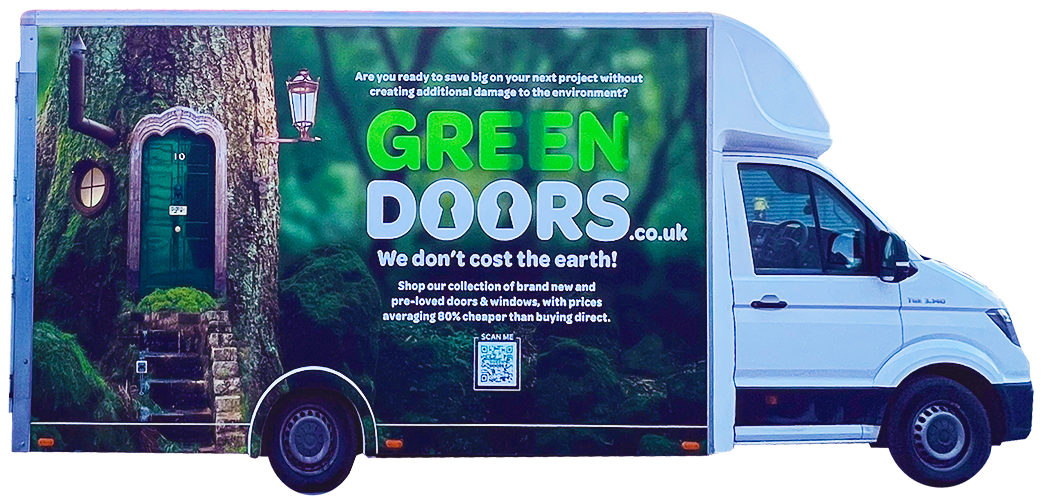 Find out your Delivery quote
Get an instant quote for your delivery, we charge a flat fee, meaning you can have multiple items under the same delivery rate.

Planning your delivery
Every door and window journey begins with meticulous planning. At the helm of our logistics department is Aaron, our dedicated logistics executive. He uses an advanced planning system to curate the most energy-efficient delivery routes. We prioritise limiting our carbon footprint and Aaron's focus is to ensure that our routes don't produce any unnecessary CO2 emissions. His strategy involves planning the day's routes with precision and consideration for both distance and traffic flow, thus reducing our environmental impact.
Sustainable Packaging
We are committed to a sustainable mission which extends to our packaging methods. Unlike traditional packaging, we don't use one-time materials like bubble wrap or foam. Instead, we secure your products directly in our van, protecting them against damage during transit. We use recycled foam for padding, a material that is repurposed multiple times, thus reducing waste. Our approach to packaging allows us to protect your purchase and the planet simultaneously. Don't expect enormous cardboard boxes or excessive packaging that will fill your recycling bin. We take pride in doing things differently and with the planet in mind.
Delivery updates
Communication is key when it comes to the smooth delivery of your products. Once Aaron has planned out your delivery day, you won't be left in the dark. On your scheduled delivery day, our driver will call you with an updated estimated time of arrival. This system keeps you informed and helps ensure that you're ready to receive your product at the agreed time.
Unloading your items
To keep our delivery costs as low as possible, we typically send a single driver for each delivery. Our drivers are experienced and will guide your product to its destination - typically, the front of your house. Please note, for efficiency and to keep costs low, our drivers may not be able to move the item over a fence or transport it to the back of your garden. For larger items, we kindly ask that you are present to lend a hand if needed. We could send two drivers, but this would significantly increase the delivery costs. So, your assistance helps us keep our service affordable and efficient.